Cirencester Swimmers Success at the 2023 County Championships
22 Feb 2023
Cirencester Swimming Club brought home a haul of medals from the 2023 Gloucester County Swimming Championships and an incredible 178 top-ten finishes in the individual events. Our volunteer-run club finished 5th place in the womens' county championship and 6th place in the mens' championship out of the 15 clubs which took part.


A special mention to Finley M who was Junior County Champion in 4 events and Willow K M who was in the top 3 in her age group in every Freestyle event - making the Championship (top 10 of all ages in the county) in the 1500m freestyle. Toby R won gold medals in all three backstroke events and Lorcan W achieved medals in all three breaststroke events (2 golds and 1 bronze).

Several Cirencester swimmers made Championship Finals - making them one of the top ten fastest (of all ages) in the County: Izzy S finished top in her age group in the heats in all three breaststroke events and made it into the Championship Finals. Alongside her was her teammate, Immie L who also made two of the breaststroke Championship Finals (finishing second in her age group in all three breaststroke events). Ishi H finished in the top three in her age group for all three Butterfly events and swam in the Championship Final for the 200m Butterfly.


Congratulations to other Cirencester individual event medallists: Ruby H, Henry S, Janelle B, Ollie H, Abi C, Hugh S, Morgan D, Barclay S and Eleanor S.

The Championships closed with the lively and entertaining relay races and Cirencester's relay medal-winning teams were: Oscar H, Kit N, Barclay S and Toby C claiming silver in the boys' 9-10 Medley Relay | Bekkah M, Izzy S, Janelle B & Ella H winning bronze in the 15-16 year old girls' Medley Relay | Caleb B, Hugh S, Lorcan W and Oscar H who won bronze in the boys' 11-12 Medley Relay | Toby R, Archie J, Finley M and Sam H claiming bronze in the boys' 13-14 Medley Relay | Archie J, Sam H, Toby R and Finley M bringing home silver in the 13-14 Freestyle Relay | Daisy W, Emma C, Mabel G and Lucy V achieving silver in the 9-10 Medley Relay.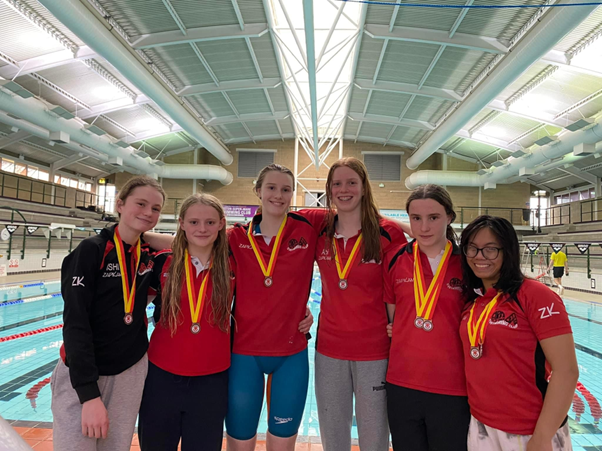 ---